Table of Contents
Maps & Layers

The application offers two different ways of accessing maps offline in order to suit most users:
On-demand maps are maps retrieved on-demand from Internet and automatically stored on the device;

On-board maps are file based maps covering a particular fixed area, pre-created and stored on the device.
On-demand maps

When a map is selected from the available maps list, the application will download, display and store on the device all displayed areas. Everything that has been displayed once remains stored and available for off-line use. When the same area is displayed again, the application will use the stored data instead of downloading it again (unless the stored data is too old and a new version can be downloaded).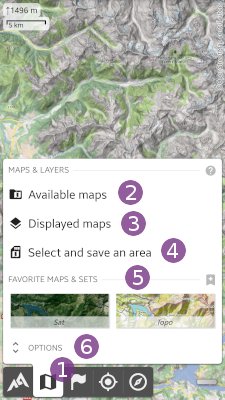 Managing maps list
Managing stored data
File-based maps

File-based maps are pre-created maps copied on your device. Some key features are:
They can be created at home, using a hi-speed Internet connection, which is usually faster than a mobile connection;

They consist in a single file, which can be easily copied to or removed from the memory card. They can be easily exchanged over Internet;

They have clearly defined bounds that makes clear which map is available at which location.
However, with the always increasing connection speed and capabilities of mobile devices, several weaknesses compared to on-demand maps make them part of the legacy:
The data cannot be updated, they become obsolete after some time;

The area cannot be extended, if a larger area is needed, a new map must be created and used;

The entire file must be on the device, even if only a small subset area is needed;

It can take long time to move the maps on the device.
How to use file-based maps?
How to create file-based maps for the application?
How to import KML/KMZ map overlays?
Maps features
Maps F.A.Q.
Is it possible to increase the download speed of maps?
Each map uses its own map server and has a different download speed. Various factors can impact the download speed, including your physical location and the current server charge. We try to keep the default map as fast as possible to download, but don't hesitate to select another map that may be faster for you to access. If you need to download lot of map data, try to avoid rush hours to get a better speed.
Is it possible to change the language of names displayed on the maps?
Each map has its own policy concerning how to display names. The default map uses the local language (i.e. localized names) so all users have familiar names displayed in their own languages. Other maps like Bing Maps only uses English names everywhere. You can also install an alternative version of Bing Maps displayed in various other languages, just install the community map called "Bing Maps (Localized)".
Problems with maps
What if no maps are displayed, zooming a lot displays "Area not stored"
What if a map is not working anymore?